Sam Mazza's Family Annual Strawberry Festival on Saturday, June 24th from 11 am to 4 pm in and around the special events pavilion and the expansive strawberry fields now in season.
The Strawberry Festival celebrate our ripe, juicy Vermont Strawberries grown just steps away, picked that morning and served in many delightful ways. The most popular dish at this family-oriented festival is by far the traditional Strawberry Shortcake featuring Mazza's home made baking powder biscuits piled high with fresh strawberries and smothered with Cabot whipped cream.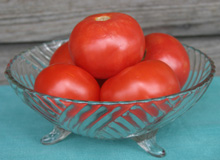 Our own Hothouse Tomatoes are now ripe and ready for your dinner table! Right on schedule, the first of our our three large tomato greenhouses is fairly bursting with tomatoes which are being picked daily and are now available in our Farm Market.
See the photo below of just one branch of one of our hothouse tomato plants to get an idea of the bounty of our harvest.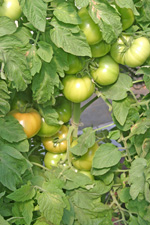 As mentioned above, we have three tomato greenhouses, each planted on a different schedule that will guarantee that we will carry fresh home-grown tomatoes right into August when our field tomatoes ripen.
Our fresh produce department has moved back out front under the awning where you'll find homegrown early season fruits and veggies as well as a full line of other fresh produce.
We carry a full line of seasonal fresh produce, fruits and vegetables, along with our own crops picked daily here for your enjoyment.
Sam Mazza Farm Market is indeed a Farmers Market seven days a week throughout Vermont's growing season.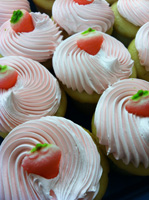 Have your tried our Quiche? Frank makes our quiche with fresh cream, eggs and Cabot sharp cheddar in 6 flavors available in our freezer case. As always, you can place an order for your favorite flavors with a 24 hr. notice.
Just to get the Bakery warmed up early in the morning, Frank makes dozens and dozens and dozens of Apple Cider Donuts seven days a week, before he tackles all the other goodies you'll find in the bakery case.
Our large bakery case is where you'll find a wide selection of Fruit Pies, Cream Pies, Deep Dish Apple Pies, Custard Pies, Dessert Cakes, Filled Cookies & Pastries. Frank has stocked up on our famous Meat Pies.
You'll find our Meat Pies in the frozen food case. They're made right here using a traditional Mazza Family recipe. Click on the Bakery Button on the web menu above and take a look at the list of all the bakery treats baked from scratch right here on premise. You can print out a Bakery Order Form and fax it in or drop it off at the cashier's counter and your Bakery items will be ready and waiting for you and your family get-togethers.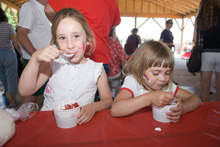 Home made fudge-dipped strawberries, strawberry fudge and strawberry milkshakes are also served on this day of tribute to the ripe and juicy strawberry.
For the kids, there will be pony rides, a petting zoo, bounce house, face painting and The BIG Blue trunk! Our MC, Charlie Rice will be on hand to lead a hilarious selection of traditional and wacky children's games.
In addition to the strawberry specialties a variety of food vendors will be on hand to provide festival foods throughout the day. Visit our Farm market for a amazing selection of Specialty and Vermont foods.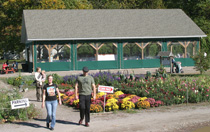 Are you are looking for a unique, affordable and convenient spot to hold your next special event? Our 40 by 60 foot Pavilion is now available to rent for parties, meetings, receptions and business functions.
Perfect for family events it's located just steps from our Petting Zoo with a Playground adjacent to the Pavilion. We offer plenty of Free Parking and have a full service Bakery and a wonderful selection of Seasonal Produce and a Farm Market across the yard from the Pavilion. We have installed weather curtains all around and even provide picnic tables and a grill for your events.
Come out and see for yourself how our pavilion might fit your entertainment needs. Click Here to go to our Pavilion Page to see photos and rental rates. Questions or special needs? Please call Laurie Bombard at 655-3440 for date availability or further information.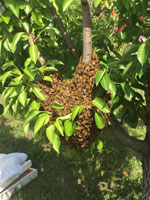 In 2014 Sam Mazza's added 5 bee hives to the farm to aid in pollination. We have heard many comments about conventional farmers causing a decline in bee populations. Our hives flourished in 2014 and we now have 13 hives on the farm producing honey for sale in our Farm Market. Bees are a very important part of producing crops on our farm. We are proud that our careful and educated application of pesticides does not affect our bee populations.