Our fields may be snow-covered and dormant, But inside, our bakery ovens are warm & toasty and we are busy planting seeds and getting ready for spring!

There is nothing finer than a warm slice of Cheddar Cheese Bread with your favorite soup on a cold winter day. We bake Cheddar Cheese Bread every day. Our Head Baker Frank Peters, with the able assistance of his brother Kevin, took a rare day off at Christmas and are back making their magic in our full service seven-day-a-week Bakery.
In addition to stocking our large bakery case with a wide selection of Fruit Pies, Cream Pies, Deep Dish Apple Pies,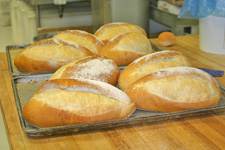 Custard Pies, Dessert Cakes, Filled Cookies and Pastries, Frank has also stocked up on the Meat Pies.
Our Meat Pies are made right here using a traditional Mazza Family recipe and are just the ticket for creating a quick and easy meal after a day of sledding or skiing and are sure to please your entire family.
Click on the Bakery Button on the web menu above and take a look at the list of all the bakery treats that are baked from scratch right here on premise. You can print out a Bakery Order Form and fax it in or drop it off at the cashiers counter and have your Bakery items ready and waiting for you for your family feasts.

As anyone who has ever visited our Farm Market knows, we specialize in Vermont Specialty Food Products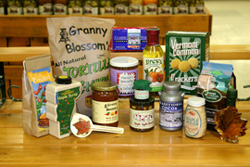 in addition to the items we have gathered from around the region and everything we grow and produce ourselves. We particularly enjoy building Vermont Food Gift Crates and Baskets any time of the year so that you can share the bounty of Vermont with your family, friends and business associates. What a terrific gift idea to brighten the Winter gloom!
From Maple Products to Cheese, Coffee, Cocoa, Pancake Mixes, Mustards, Salsa, Honey and many many more tasty items, we can assemble a variety of mouth-watering gift crates for you to take with or for us to ship for you. We have many examples to choose from in all price ranges and we are happy to build custom gift crates and baskets to order with 24 hour notice.

When the weather outside is frightful, January is the time for Thinking Spring and warming up the Greenhouses by planting seeds and rooting cuttings. We have 17 Greenhouses on the farm that cover over 100,000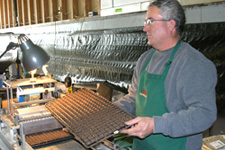 square feet of growing space, most used for Flowering Plants and some for Greenhouse Tomatoes which will be ready for harvest in May.
In the photo at the left, Gary Bombard is holding a tray with small squares of soil he is about to pass through the needle seeder. See the machine in action in the larger photo above.
Our crew will start trays of Pansies, Begonias, Violas, Dianthus and Dusty Millers in a wide variety of colors. Once started they will be transplanted to larger containers to mature. We will also start rooting cuttings this month for over 20,000 Geranium and container plants, a longtime Sam Mazza Farms Specialty.
Click HERE to Print Out Your Own JANUARY Coupon Redeemable at the Farm Market

Your headquarters for the warmest Valentine gifts and sweet treats for your loved one. From colorful houseplants, Valentine sugar cookies to specialty food items, all guaranteed to please!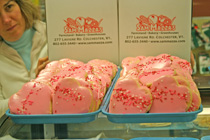 Frank is at it again! Now hes making heart-shaped Valentine Sugar Cookies and luscious decorated cupcakes to please your Sweetie! Bring some of them home and just see how long they last.
From crusty breads and fluffy dinner rolls to the sweetest dessert items, we take pride in the quality and the freshness of our Baked Goods.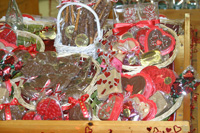 We make many delicious flavors of Fresh Creamery Butter Fudge right here in our Farm Market. And this time of year, we package our fudge in several attractive styles of heart-shaped boxes for Valentine gift giving of the sweetest order. See the display over near our Bakery Case for all the tasty details.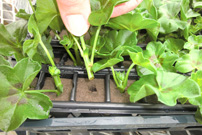 We have warmed up our greenhouses and are working hard planting flowering baskets. Starting our baskets now assures that well have thousands of large, lush flowering baskets for you to chose from come spring.
This photo shows an ivy geranium unrooted cutting ready to stick in a special rooting material. These cuttings will grow roots and be ready to transplant into soil in three to four weeks. We grow ivy geraniums, geraniums, calibrachoes (million bells), new guinea impatiens, to name just a few, using this method.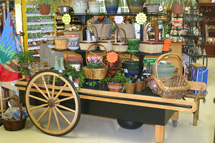 The perfect antidote to the Winter Blues? Our warm and colorful Houseplants will chase those blues away and brighten up the dreariest Winter Day! And a visit to our Greenhouse located just through the doorway on the left side of our Market is the your ticket to an early Spring. The overwhelming sight of so many brightly colored flowers and lush plants will remind you that there is life after a Vermont Winter.
We carry a wide variety of Houseplants that will bring some of that same warmth to your home. We have just unpacked a new shipment of ceramic pots and planters and they are now on display in our Farm Market. Purchase any houseplant and planter and well repot it for you for free.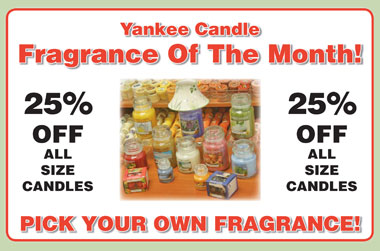 Click HERE to Print Out Your Own FEBRUARY Coupon Redeemable at the Farm Market