September 2nd Through October 31st
Mon - Sat 10am – 6pm • Sun 10am - 5pm
Get Lost or Not! Challenge Yourself to Vermont's only Four Mile Corn Maze. Find all 12 Maze Stations, Fill the Punch Card & Enter a Grand Prize Drawing. Natural Fun for the Whole Family

Saturday • September 23rd • Noon - 3pm
Bring the whole family to watch two dozen giant pumpkins battle for the heavy weight title. It's tons of fun. Enjoy a steaming mug of spiced Vermont Apple Cider & Take a Hay Ride to our Pumpkin Fields to Pick Your Own normal sized Pumpkin.

Weekends beginning Sept. 23rd thru Oct. 15th • 10 am - 4 pm
(Weather Permitting)
Take a Hay Ride on a Vermont Farm Wagon Past The Corn Maze, Through the Haunted Gulch to our Pumpkin Patch to Pick Out Your Own Pumpkin.

Weekends beginning Saturday, Sept. 23rd
Different Activities and Food Vendors each Weekend
Visit Us on Facebook for up to date information

Frank loves to bake cream pies during the Summer and Chocolate Cream Pie and Banana Cream Pie are two of his most popular. Cupcakes are also very favorite Summer treats, perfect for the picnic basket and the beach.
Frank makes dozens and dozens and dozens of Apple Cider Donuts seven days a week, and often bakes seasonally flavored donuts. You might be lucky enough to catch blueberry donuts some mornings in July!
Our large bakery case is where youll find a wide selection of Fruit Pies, Cream Pies, Deep Dish Apple Pies, Custard Pies, Dessert Cakes, Filled Cookies & Pastries. Frank has stocked up on our famous Meat Pies.
Youll find our Meat Pies in the frozen food case. Theyre made right here using a traditional Mazza Family recipe. Click on the Bakery Button on the web menu above and take a look at the list of all the bakery treats baked from scratch right here on premise. You can print out a Bakery Order Form and fax it in or drop it off at the cashiers counter and your Bakery items will be ready and waiting for you and your family gatherings.



Our sweet corn is one of Vermonts favorite Summer treats! The corn fields are maturing nicely and it looks like a great year for sweet corn at Sam Mazzas! Youll find our sweet corn in a huge bin under the wooden racoon at the front of the produce stand in mid July!
Our fresh produce department is holding forth in all its glory up front under the awning where, during the month of July you will find our own greenhouse tomatoes, radishes, summer and zucchini squash, yellow and green beans, scallions, lettuce, regular and pickling cucumbers, sweet corn, blueberries and raspberries.
Sam Mazza Farm Market is a Farmers Market seven days a week throughout Vermonts growing season.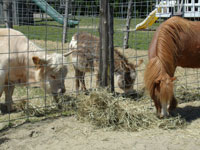 While you are shopping at Sam Mazzas Farm Market with the kids, take a few minutes out of your busy day and visit our Petting Zoo next to the Pavilion.
You can visit with Sampson, our dwarf Scottish Highland steer, Annie, our Shetland pony, Pedro, our miniature Donkey, and JoJoe & Joey, our goats anytime. Our animals stay on the farm year round.
Bring the kids to visit the animals and play on the playground.
The Petting Zoo is free. Bring your quarters and you can feed the animals, a sure way to make a new best friend!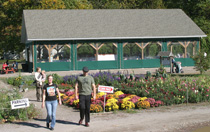 Are you are looking for a unique, affordable and convenient spot to hold your next special event? Our 40 by 60 foot Pavilion is now available to rent for parties, meetings, receptions and business functions.
Perfect for family events its located steps from our Petting Zoo with adjacent Playground. Theres plenty of Free Parking and a full service Bakery and a wonderful selection of Seasonal Produce at our Farm Market across the yard. There are weather curtains all around and we provide picnic tables and a grill for your events. Click Here to go to our Pavilion Page to see photos and rental rates. Questions or special needs? Call Laurie Bombard anytime at 655-3440 for further information.